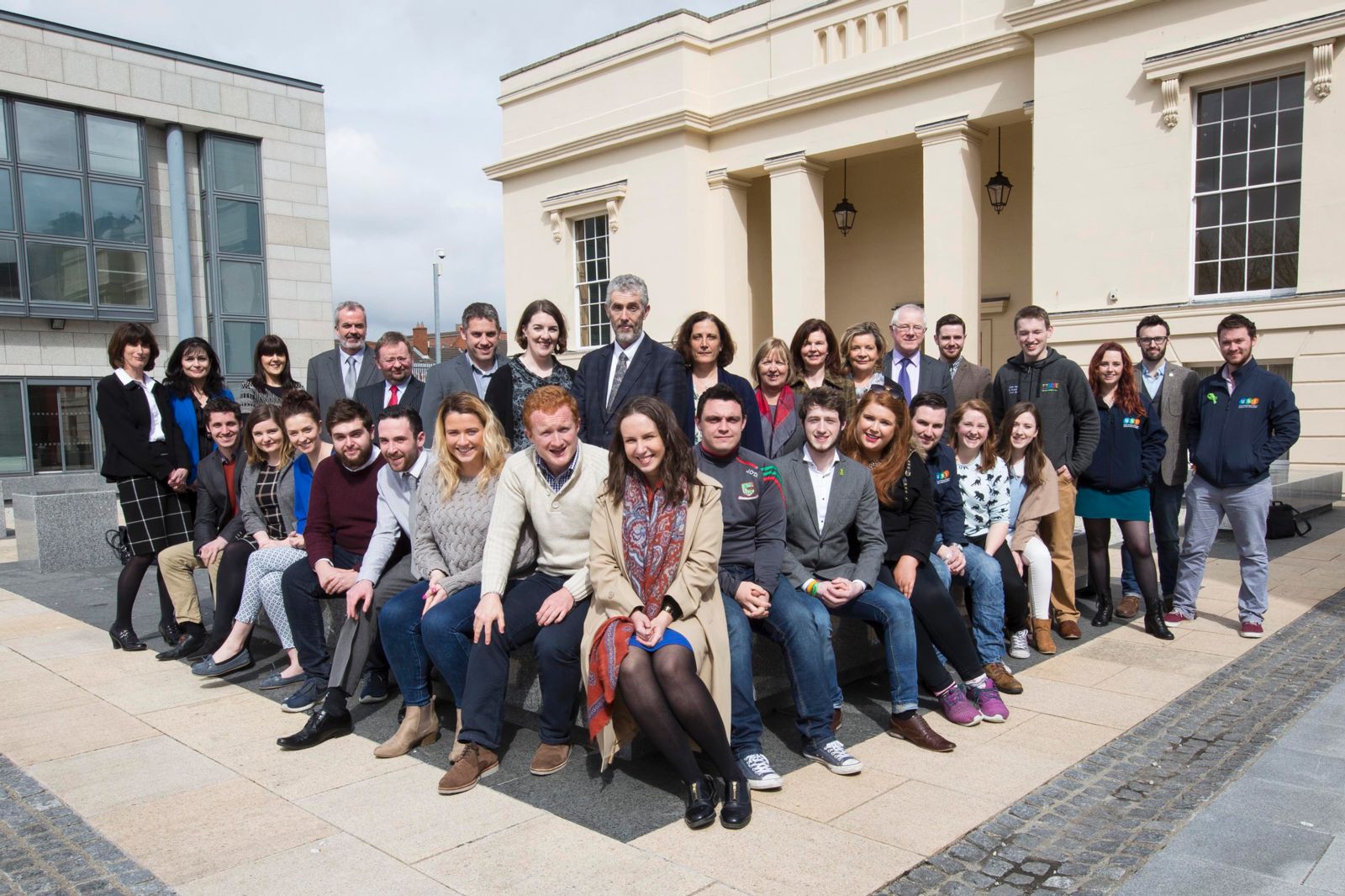 What is NSTEP
The National Student Engagement Programme is a collaborative initiative which aims to develop student capabilities and institutional capacity to enhance engagement at all levels across the higher education system. The Union of Students in Ireland (USI), the Higher Education Authority (HEA) and Quality and Qualifications Ireland (QQI) are collaborating on this initiative.
The NStEP programme has two objectives. The first is to develop and support the implementation of a student training programme, specifically to Class Representatives. The second objective is to build capacity within institutions to provide high quality opportunities for learners to engage.
Aims of NStEP
The programme aims to:
develop student capabilities to engage in quality assurance and quality enhancement with higher education institutions;
support institutions in facilitating meaningful engagement with students;
strengthen the value of student engagement;
develop and implement tools and resources to build effective engagement practice;
systematically improve student engagement across all higher education institutions
CIT as a Pilot Institute
CIT has been selected as one of five institutions nationwide to pilot the National Student Engagement Programme
Chief Executive of the HEA, Tom Boland, has recognized Cork Institute of Technology's expertise in the field of Student Engagement by selecting CIT as a lead pilot institute in the National Student Engagement Programme. "The student engagement initiatives at CIT have had a tangible impact," says Mr Boland, "on any visit to the campus, you can see evidence of how students are meaningfully engaged in decisions affecting their learning. A number of the student retention and support initiatives that are now in place, came about directly because of suggestions made by students themselves. This is the type of student engagement that we would like to see on campuses across Ireland."
The aim of the pilot programme is to develop tools and resources that can be more widely applied to improve student engagement practices. The Call was open to all higher education institutions with students' unions (affiliated to USI or otherwise) and a relationship with QQI and/or the HEA. The successful institutions were,
Cork Institute of Technology (CIT),
Letterkenny Institute of Technology (LYIT),
NUI Galway,
the National College of Ireland (NCI)
Waterford Institute of Technology (WIT).
The institutions will participate in the pilot in partnership with their students' unions.
The Student Engagement Office at CIT works with academic faculty, school, and departmental staff and student services, to develop proactive and collaborative strategies aimed at improving student engagement, progression and graduation. CIT made a strategic decision to increase its focus on student engagement because of a range of factors, including greater student numbers, the increasing diversity of the student population and an awareness that better student engagement could lead to increased retention rates.
Next Steps for NSTEP
In 2017 the National Student Engagement Programme expanded to include a further 12 HEIs.
The next phase includes:
Athlone Institute of Technology
Dublin City University
Dublin Institute of Technology
Griffith College Dublin
Hibernia College
Institute of Art, Design and Technology
Institute of Technology Carlow
Institute of Technology Sligo
Institute of Technology Tallaght
Institute of Technology Tralee
Maynooth University
University of Limerick.
The National Working Group of NStEP selected five national projects as a focus for the next 18 months following a review and analysis of the Pilot Institutional Analysis report from each Institution. Each of thes projects will be led by one of the five institutions involved in the pilot programme These work streams are as follows:
The Role and Recruitment of Class Representatives
The Design, Review and Delivery of Programmes
Student Feedback Opportunities, Data and Follow Up
Students in formal system level procedures, strategy and decision making
Staff Roles and Capacity Building
Project 5 - Staff Roles and Capacity Building
Project 5 of the National Student Engagement Programme on 'Staff Roles and Capacity Building' produced five starter documents, designed to support varied staff and student roles across HEIs and Student Unions who want an immediate and short introduction to why and how they might contribute to their institutional capacity to enhance student engagement, progression and success in their contexts.
5.1 ROLE OF SENIOR MANAGEMENT AND GOVERNANCE
5.2 A GUIDE FOR ACADEMIC AND LEARNING & TEACHING MANAGERS
5.3 A GUIDE FOR ACADEMICS AND OTHER STAFF (including tutors, lecturers, associate lecturers, professors and technicians)
5.4 A GUIDE FOR A GUIDE FOR PROFESSIONAL AND SUPPORT STAFF (including those working in roles including: academic affairs, access units, accommodation offices, admissions, alumni offices, arts offices, campus liaison, canteens and refectories, caretaking, counselling, departmental administration, disability units,estates and buidling services, enterprise centres, exams offices, faculty administration, fees and finance, human resources, innovations centres, IT services, learning support teams, libraries, marketing departments, meidcal centres, schools liaison, security services, student services, widening participation units and writing support centres)
5.5 A GUIDE FOR STUDENTS' UNION AND STUDENT ENGAGEMENT STAFF
PROJECT TEAM: Cork Institute of Technology Roisin O'Grady (Co-Chair of Project 5), Marese Bermingham (Project Sponsor of Project 5), Cliona Hatano, CITSU Stephanie Kelly (Co-Chair of Project 5), Vicky O'Sullivan, Dublin City University SU Podge Sheehan, Institute of Art, Design and Technology Denise McMorrow, IADTSU Grace Latham, Institute of Technology Tralee Aileen Kennedy, Maynooth University Gemma Middleton, NStEP Cat O' Driscoll, University of Limerick Maura Murphy, Liz Gabbett, ULSU Heather Armstrong
LEAD EDITORS: Marese Bermingham, Cliona Hatano, Roisin O'Grady, AnSEO - The Student Engagement Office, Cork Institute of Technology